I am very happy to welcome my newest guest, Hania from
To the Point Book Reviews
.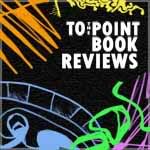 I began to read for enjoyment after reading Harry Potter and the Order of Phoenix. I was 11 or 12 years old at the time, and for me, managing to complete a book so thick was quite an accomplishment. After reading HP5, I began to read the Sleepover Club series. Obsessively! I'd borrow four or five books at one time and read them as soon as I could, especially on the school bus. Any Sleepover Club book I could get my primary-school hands on, I'd read. Other series which I also remember reading was The After School Club by Helena Pielichaty. I had devoured them, alongside Paul Jennings short stories and the Fudge series by Judy Blume. For some awkward reason I never read the Goosebumps series.
My transition into Young Adult literature was in year seven, when I started secondary school. At my local library, an entire section was devoted to YA. I remember that when I was younger I would stay clear from the area, unaware of the books there. Actually, on a sidenote I am grateful that I didn't start reading YA too early. An example which confuzzles me quite a bit is of ten year olds, who are reading The Princess Diaries. Seriously... haven't you seen the rave reviews at the back of one of the PD novels by a 10 year old?
Anyways, continuing... my early YA reads were by Sandra Glover, K.A Applegate (Remnants series), Hilary McKay (Casson family series) and Melinda Metz (the Fingerprints series). However I still continued to read junior fiction (the On The Run series by Gordon Korman). I do admit that the stories I read then wouldn't have had such an impact on me if I read them again, since I read mostly for the plot. I still do read for the plot, but if there's a message, theme, character, scene or quote which provokes deeper thinking, I'm now more likely to dwell upon it (although this may be due to my English course. Too much literary analysis I say).
Currently, I continue to read YA although I suppose at my age I could transgress into 'normal' fiction. I love girly stories but also immensely enjoy a fast paced action or mystery.
I suppose my reading journey has been a pretty awesome one. I hardly ever read anything I don't want to, and I actually do remember most of the books and titles I've read (although remembering the plot may be a bit fuzzy). My best book memories would be those shared with my friends, since my family isn't too big on reading fiction (Mum reads non-fiction and every time I have a book in my hands she asks me, "how do you manage to read so many stories?!"). I've also noticed that I read a lot of books which are in series.
I'd like to thank Dahlia for allowing me to guest post as part of her Blogoversary celebrations Not only have I written a post, but now I've started thinking about my early days of YA.
Lovely post, Hania! Thanks so much for stopping by! ^_^
Eclectically yours,